Freedom Grill Australia introduces the
FG-50 for better cooking outdoors

Freedom Grill is launching the next generation of transportable grill, the
FG-50.

Featuring an award-winning design, the FG-50 combines convenience, greater portability and style.

"This grill was specifically designed to look great and offer versatility". "And it makes cooking the perfect steak easy", said Anne Herzog, Managing Director of Freedom Grill Australia.

Putting a greasy, smelly grill inside a 4X4 or SUV is out of the question.

The Freedom Grill FG-50 attaches to a standard 2" receiver hitch, keeping it outside where grills belong.

Designed for greater versatility the FG-50 features over 352 square inches of cooking
space - enough room to cook 20 burgers, 4 chickens, or 40 sausages.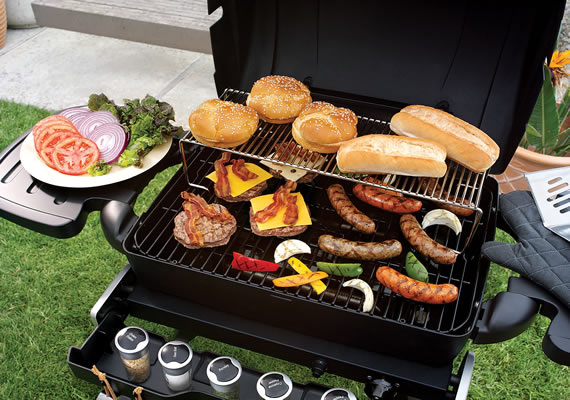 "Being able to barbecue anywhere with my Freedom Grill makes the whole world my backyard," said Jon Foulcher of Nunawading, Victoria, an ATV fanatic who spends most of his weekends and vacations on the road. "The Freedom Grill's always there, ready to travel with me around Australia, and I never have to worry about what's for dinner."

Freedom Grill FG-50™ Features:
• Fully assembled grill head & swing away arm
• High quality cast aluminum grill
• Open flame grilling
• Easily attaches to 2" hitch receiver
• Quick release for tabletop cooking
• Integrated handles for easy carrying
• 22,000 BTU high-efficiency stainless steel burner
• 352-square-inch cooking area
• Fold-out integrated side tables
• Fold down condiment tray
• State-of-the-art electronic igniter
• 180-degree swing away arm with transport lock
• 360-degree grill rotation and lock
• Accepts 465g Portable Tank/ Canister or 2, 4, 9 kg LPG Bottle
(tank & adapter sold separately)
• Disposable grease pans
• 1-year Limited Warranty
About Freedom Grill Australia
Freedom Grill Australia – Distributor of the Freedom Grill FG-50 Grilling System, camping and outdoor products. Head Office in Whittlesea, Victoria, Australia, the company's innovative approach to the outdoor lifestyle market is second to none. The new FG-50 is the first grill designed specifically to look and perform great on a caravan, trailer, patio or vehicle as well as a tabletop. Freedom Grill products are sold through Specialty Retailers, Automotive Stores, Sporting Goods Stores, Caravan/Motorhome Dealers and Hardware Stores or buy from our call centre on Freecall 1300 506 632.