FREEDOM GRILL FG-50 ENGINEERED FOR SAFETY


FRAME CONSTRUCTION
Constructed from both 11 and 13 gauge steel tubing. All pieces are joined together using Metal Inert Gas Welding (M.I.G.) which is the strongest possible welding technique for steel. Reinforcement gusseting is installed at all weld joint junctures.
To prevent corrosion, the steel assembly is sandblasted and powder coated for a robust, scratch resistant surface.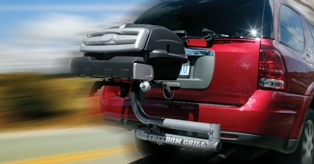 TRANSPORT
The FG-50 employs four separate locking mechanisms
1) A hitch pin is utilized at the hitch insertion collar.The hitch pin can be replaced by a hitch lock.Freedom Grill recommends using an aftermarket hitch stabilizer.
2) A retaining pin is installed at the frame swing-arm hinge. This pin provides a secure and positive retention of the swing-arm. This serves as a backup to the additional retaining mechanism described below, and is strong enough to secure the arm in its closed position in the event of a failure of that mechanism.
3) A steel lynch pin that travels through the vertical arm assembly to secure the assembly for driving. This pin holds the arm in the closed position and keeps the grill head from rotating during transport.The pin can be replaced with a padlock for additional security against theft.
4) A T-handle serves to lock the rotating position of the grill while in use. It is also a redundant locking device to prohibit grill movement while in the "transport" position.
---