The Freedom Grill FG-50 Grilling System
Portable Gas Grill that comes with a swing arm assembly and attaches into a 2" hitch receiver. With 352 square inches of grilling area and a 22000 BTU burner this is one awesome portable grill! It stays attached to your vehicle while you grill. The Freedom Grill is so versatile it can be adapted to any situation, caravan, boat, car or table top unit.


The "ride-outside" grill that goes everywhere you go!

Comes with;
Two (2) fold out side trays

Includes pad lock to lock grill to the swing arm

Fold down condiment tray/utensil holder

Sturdy swing arm that attaches grill to standard receiver hitch

Dual locking system on swing arm

Locking latch on grill top
Minimal assembly required: Only 6 screws to attach the two table top legs,
Light Weight - Cast Aluminium body, Runs off of 465g portable tank/canister or can be used
with larger LPG Gas bottles.

Grill weighs 22kg and swing away arm weighs 11kg Limited 1 year Warranty.
Ever packed up the family car and realised there isn't any room left for the grill? The Freedom Grill FG-50 solves the problem of cramped boot space.
Based on an award-winning design, this cast-aluminium grill attaches to any 2" hitch receiver, locking into place on a heavy-gauge steel swing arm.
Your next picnic in the park, day at the beach, or tailgate at the footy, cricket will never be the same.
When you park, just swing the grill out away from your vehicle, and fire up the 22,000 BTU stainless-steel burner.
The FG-50 offers over 352 square inches of cooking space over an open flame, so you can grill enough to keep everyone satisfied.
The fold-out side tables and condiment tray offer plenty of space for food prep, and you can even detach the grill from the arm to use it on table-top surfaces.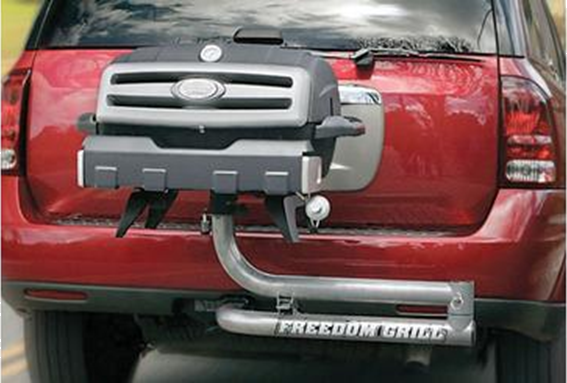 Based on an award-winning design, the Freedom Grill FG-50 combines greater portability, convenience and style than any other grill on the market.

The FG-50 maintains over 352 square inches of cooking space - enough room to cook 15 burgers, 3 chickens, or 30 sausages. The removable grill head has snap-on legs, making it a cinch to use on a picnic table or anywhere else away from the swing out arm.
Now tailgaters can bring their favourite grill to the beach, to the river, camp site, or anywhere they want to enjoy quality grilling with family and friends.
Freedom Grill FG-50 Features:

High quality cast aluminium grill

Fully assembled grill head & swing arm

Easily attaches to 2" hitch receiver

Quick release for table-top cooking

Integrated handles for easy carrying

22,000 BTU high-efficiency stainless steel burner

352-square-inch cooking area with stainless steel grate

Fold-out integrated side tables

Fold down condiment tray

Open flame grilling

State-of-the-art electronic igniter

180-degree swing-out arm with transport lock

180-degree grill rotation and lock

Transport and grill locks accept standard padlocks

Accepts

465g portable tank/canister

& up to 9kg

gas bottle (Bottle/canister & adapter sold separately)

Disposable grease pans

1 year

limited warranty
Additional images for the Freedom Grill FG-50

Easy hitch mount
Built in Hitch-Stabilizer attaches
to any 2'' hitch receiver.


Condiment holder
Secure, handy storage for
sauces and spices.


True open flame grilling
352 square inch cooking surface
is the largest in its class.


Swing away arm
Sets up in seconds so you can get
cooking right away


FOLD OUT SIDE TABLES
Keeps your serving utensils and plates
close at hand.


TEMPERATURE GAUGE
Accurate and durable for grilling perfection


Tailgate like you mean it!


From Tailgate to Table top